Many of us are familiar with magnificent sandstone buildings built by convicts in the early days of Sydney, Parramatta and Windsor. But it wasn't sandstone which formed the basis of most early buildings, it was timber.
Bullock on George St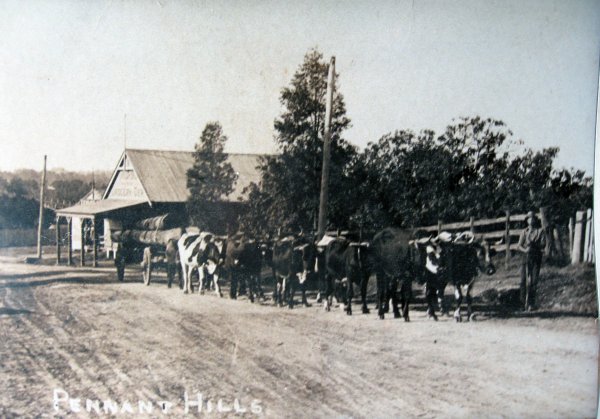 The best timber was to be found in the Hills district. Blackbutt, Red Mahogany, Sydney Blue Gum, Ironbark and Turpentine all grew large and straight. When Governor Lachlan Macquarie began his large-scale building program in 1810 he needed a continuous supply of good quality timber. To that end he created the Government Timbergetting Establishment in the current suburbs of Pennant Hills and Thornleigh.
Dozens of men laboured in difficult terrain felling and sawing logs. Bullocks were used for transporting logs along Pennant Hills Road down to Parramatta. In 1820 there were 105 bullocks at Pennant Hills, one quarter of the working bullocks in the colony. Bullocks were used in preference to horses because they were stronger and able to manoeuvre more efficiently in steep and difficult terrain.
As well as buildings, the timber was used to build wharves, repair ships as well as being exported to other British colonies. Some of the massive logs felled in the early days can still be seen in the rafters of buildings dating from Macquarie's time such as Hyde Park Barracks in Macquarie Street, Sydney.
Trevor Patrick is a local historian of the north-west of Sydney, Australia. His latest book, In Search of the Pennant Hills, recounts some of these stories (and others) in more detail.