Sydney Harbour Bridge main supports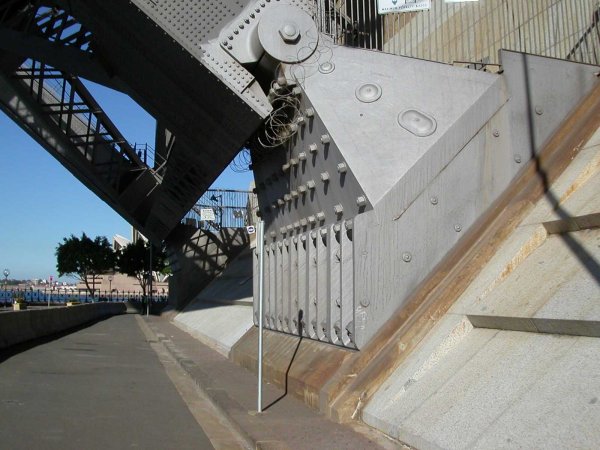 "When will they meet?" was the question on everyone's lips. Two spider-web-like steel arches could be seen from Thompson's Corner, West Pennant Hills, reaching across Sydney Harbour between Milsons and Dawes Points in 1930. Construction of the Sydney Harbour Bridge began in 1923 with the promise of the world's longest, widest and heaviest arch bridge. It missed out on being the longest by 60 centimetres to the Bayonne Bridge in America. However the bridge remains wider and heavier than any other arch bridge in the world with the deck at 49 metres wide and a total weight of steel at 52,800 tonnes. The arch rests on four giant steel pins at ground level (pictured).
Each arch was built out from the shore as a cantilever, anchored with large steel wire ropes looped through tunnels carved into the sandstone. Fabrication shops were set up at Milsons Point (on the site occupied by Luna Park since 1935). The silicone steel made at contractor Dorman Long & Co Ltd steelworks of Middlesbrough U.K., together with Australian mild steel, was used in the construction. Two creeper cranes travelled along the tops of the arches hauling the steel into position. The cantilevers met at the centre of the span in August 1930. The bridge was not without its controversy with twelve men dying during construction and another four killed on associated works.
The opening ceremony by Labor Premier Jack Lang on 19 March 1932 was disrupted by Francis Edward de Groot, a member of the New Guard, [his home 'Dunrath' is on Castle Hill Road, Castle Hill] who slashed the ribbon with his sword ahead of the Premier, believing the official duty should have been carried out by a representative of the King, namely, the Governor, Air Vice-Marshal Sir Philip Woolcott Game.
Trevor Patrick is a local historian of the north-west of Sydney, Australia. His latest book, In Search of the Pennant Hills, recounts some of these stories (and others) in more detail.