Settlers Arms Inn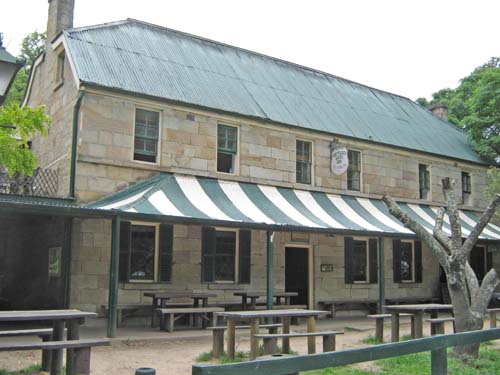 The township of St Albans nestles in the tranquil Macdonald Valley less than 100 kilometres from Sydney. The drive from Sydney takes you through West Pennant Hills, Dural, Glenorie and Wisemans Ferry. After crossing the Hawkesbury River on the ferry you will be on the threshold of a most beautiful valley that stretches north-west alongside the Yengo National Park.
The first governor of New South Wales, Arthur Phillip, sailed up the Hawkesbury River in 1788 and named this stream The First Branch. He was looking for land suitable to establish farms to grow food for the settlement at Sydney Cove.
The Settler's Arms Inn had other name in its early history. In 1848 it was named the Traveller's Arms at Bullock's Wharf by publican John Sullivan. James Jurd became the licensee in 1853 making the change to The Settler's Arms. The Jurd family has a long association with this famous hotel being the licensee for upwards of 100 years.
The last of the family to hold the licence was Mrs James Jurd, who, with her husband, took charge in 1921. James passed away in 1931 with Mrs Jurd experiencing difficulties in running the business and consequently deciding to surrender her licence. The people of the Macdonald River Valley fought against the surrender considering the hotel was a great asset to the district; some even suggested "they might die of thirst". Mr Ted Bernsdorff and family took over the hotel in 1934 and promised he would bring the old building up-to-date for the convenience of patrons. To visit St Albans today and see this beautiful old Georgian building in its perfect setting is to walk into the nineteenth century.
Trevor Patrick is a local historian of the north-west of Sydney, Australia. His latest book, In Search of the Pennant Hills, recounts some of these stories (and others) in more detail.