The Sydney Gazette article from 15 May, 1803 discussing vaccinations to be carried out by Dr John Savage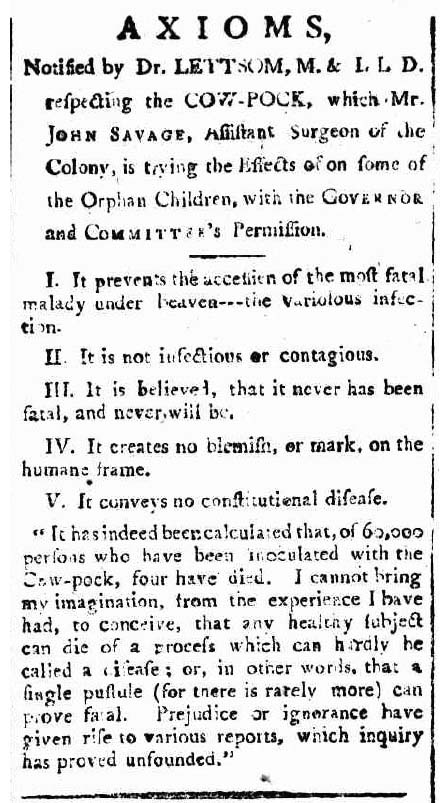 Doctor John Savage came to the colony in New South Wales in 1803 to immunise children against smallpox infection. In January 1804 he was working as a surgeon in Parramatta along with John Harris, James Mileham and Thomas Jamieson. In May he received notification to make ready to go to Port Dalrymple. However he considered that inoculation against smallpox was most important to the children of Sydney and Parramatta and so he decided to stay in the colony rather than sail to Van Diemen's Land. Savage was a member of the Royal Jennerian Society, which in 1803 had established an effective method to protect the population from the scourge of smallpox. During his term in the colony, Savage recorded the inoculation of over a thousand children.
Savage's inoculation programme was a great success and Governor King set aside a large parcel of land as a reward for his work. The grant of 290 acres (117 hectares) issued in 1804 was bounded by present-day Hull Road and Copeland Road, Beecroft, and had as its western boundary Samuel Marsden's Mount Wilberforce estate. It also abutted the Missionary Grants of Cover and Mileham.
The lead-up to the granting of this parcel of land can be traced through the official publications of the Sydney Gazette. The colonists needed to be persuaded to undertake the vaccination, which was a new form of medical treatment, and the official newspaper headed the campaign. This programme continued until the World Health Organisation was able to report in the 1980s that smallpox had been completely eliminated from the human population.
Trevor Patrick is a local historian of the north-west of Sydney, Australia. His latest book, In Search of the Pennant Hills, recounts some of these stories (and others) in more detail.