Pioneer family members rest-in-peace at McGraths Hill overlooking the rich farmland around Windsor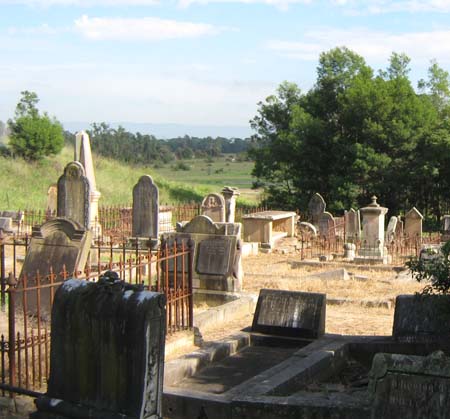 James McGrath [1772-1833] sailed into Sydney Harbour on board the Hercules on 26 June 1802, having left Ireland 209 days earlier. The court had sentenced him to seven years transportation and gave no consideration to the fact that he had married Bridget in 1795 and they had a young son, Denis, aged 3 years.
McGrath resigned himself to never returning to Ireland and in 1811 married Elizabeth Eades, aged nineteen. The distance to the other side of the world and poor communications created the common circumstance of a second marriage in the colony.
Working diligently, McGrath became a joint contractor with John Howe in road works and built the link between Parramatta and Windsor in 1813. The next year he built the wharf on the Hawkesbury River at Windsor and constructed brick drainage lines from properties around Thompson Square down to the river.
James McGrath purchased thirty acres of the late Andrew Thompson's West Hill Farm and he gradually increased his farm until it comprised 160 acres in 1819. He grew wheat and corn on the land and grazed 60 cattle and 170 sheep and was considered a successful settler. In 1825, Elizabeth delivered a son, also named James
Trevor Patrick is a local historian of the north-west of Sydney, Australia. His latest book, In Search of the Pennant Hills, recounts some of these stories (and others) in more detail.