From the journal of Arthur Bowes Smyth, surgeon on the Lady Penrhyn 1787-1789.
First Fleet entering Botany Bay 1788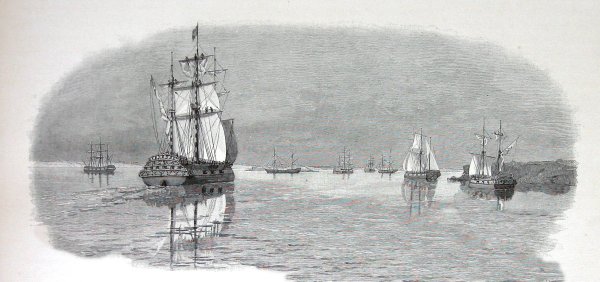 April 13, 1787

Mr Balmain delivered one of the Convict women, Mary Tilley, on board the Lady Penrhyn of a boy who is likely to do very well. [William was buried at Sydney settlement 19 May 1788 aged 13 months]
October 31, 1787

Anchored at Cape of Good Hope Latitude 34.22 S Longitude 18.45E
Two days ago the second Mate of the Friendship, Patrick Vallance, being much intoxicated fell overboard and never came up again. He was about 45 years of age.
November 1, 1787

Phebe Norton, a convict on board us fell from the head, into the Sea, it was a remarkable calm day, therefore before she had time to go down, two men jumped overboard and saved her by hauling her into the pinnace which was fastened at the stern.
November 2, 1787

A Long Boat belonging to a Dutch East Indiaman in this Harbour with 6 hands in her deeply laden was by a very sudden squall of wind overset and 2 of the hands drowned notwithstanding, it happened in the midst of the fleet and many boats were put off to save them. This Bay is very subject to heavy squalls which come so suddenly from the adjacent mountains as renders it extremely dangerous at certain times to go in small boats with a sail.
November 27, 1787

Two days ago the Governor decided to separate the fleet into two sections. The faster ships to proceed to Botany Bay and establish the settlement before the remainder arrived.
Trevor Patrick is a local historian of the north-west of Sydney, Australia. His latest book, In Search of the Pennant Hills, recounts some of these stories (and others) in more detail.