Arriving in Botany Bay in January 1788 Captain Arthur Phillip, commander of the First Fleet, had a problem. After an eight month journey in eleven small wooden boats the fleet's fresh water supplies were running low. Botany Bay, where the fleet anchored on January 18, didn't have any useful creeks or streams so Phillip set out to find some.
Lord Sydney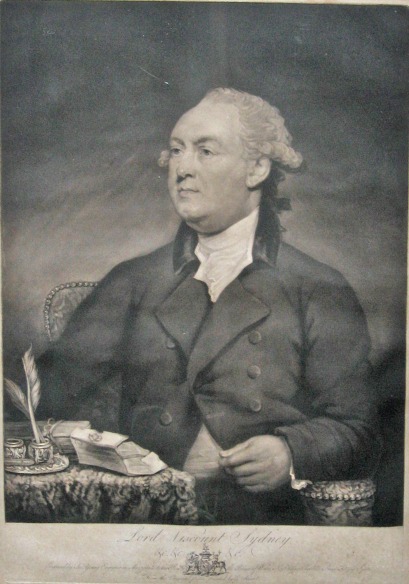 Phillip found a small creek running down into a sheltered cove just a few miles to the north in Port Jackson and moved the fleet there over the next week and a half. On January 26, marines and convicts cleared land around the cove.
"The spot chosen for this purpose was at the head of the cove," reported David Collins, Judge Advocate and Secretary to the colony. "near the run of fresh water, which stole silently along through a very thick wood, the stillness of which had then, the first time since the creation, been interrupted by the rude sound of the labourer's axe."
Phillip intended to name the settlement Albion, the poetic name for England. However, he quickly changed his mind and named the bay Sydney Cove in honour of Lord Sydney, the Secretary of State for the Home Office. The settlement itself later became known as Sydney Town.
Lord Sydney, aka Thomas Townshend, 1st Viscount Sydney (24 January 1732 – 30 June 1800) was a prominent politician yet never visited Australia. He was created Baron Sydney and entered the House of Lords in 1783. Lord Sydney was responsible for prisons and colonies and had devised the plan to settle convicts at Botany Bay. The title Sydney commemorates his descent from Robert Sydney, 2nd Earl of Leicester. The name Sydney derives from a village in Normandy called Saint-Denis.
Trevor Patrick is a local historian of the north-west of Sydney, Australia. His latest book, In Search of the Pennant Hills, recounts some of these stories (and others) in more detail.