A cooking and eating apple in one!
2008 marked 122 years of the Castle Hill District Show where local farm produce, horse riding skills and home crafts are celebrated. The first show was held on Edwin Joseph Black's 30 acre property at Rogans Hill in 1886. The first public judging of the Granny Smith apple took place at the Castle Hill Agricultural and Horticultural Easter Show in 1890. The Show Society acquired the present-day district showground in 1891 and has conducted an Easter Show every year, usually before the Royal Easter Show which is held in Sydney.
Mr MacKenzie on Eurunderee farm Crane Lane Castle Hill c1935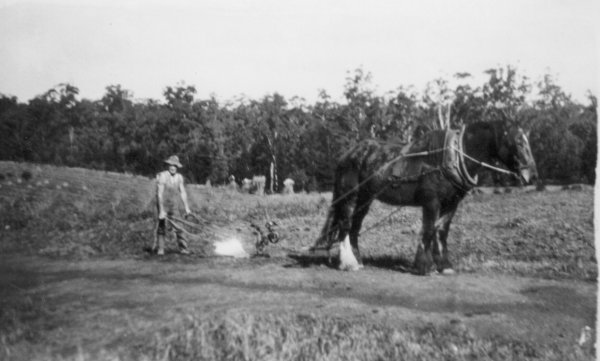 In 1891 an award was given for Granny Smith seedlings in the cooking apple section, "This being (perhaps) the earliest date for the use of the name Granny Smith as a varietal name." *
The apple variety came by chance with Maria Ann [Granny] Smith (nee Sherwood) discarding some assorted Tasmanian apples near a creek on her Ryde property. A seedling flourished from these apples yielding a smooth, green-skinned apple which was a cooking and a delicious eating fruit. By 1895 large-scale plantings of this new variety were made at Bathurst Experimental Station and cultivated in the Parramatta district. Maria was born at Peasmarsh, Sussex, in 1800 and migrated to Australia with her semi-invalid husband Thomas in 1839.
The pavilion at the showground was built in the mid-1890s so that farm produce could be judged indoors. A popular contest in the early 1900s between farmers was ploughing. Men would pit their skill and favourite draught horse team to make a perfect furrow in a field.
* courtesy Hills District Historical Society Inc.
Trevor Patrick is a local historian of the north-west of Sydney, Australia. His latest book, In Search of the Pennant Hills, recounts some of these stories (and others) in more detail.