De Havilland Dragon DH84 aircraft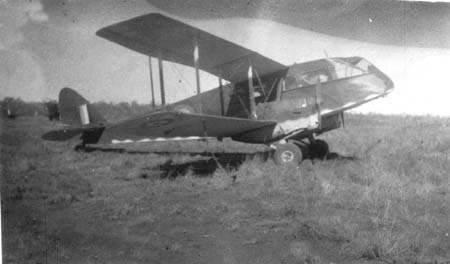 Two months after attaching Pearl Harbour, the Japanese Imperial Navy sailed towards Australia. On the morning of February 19, 1942 the battle fleet, including four aircraft carriers, the Akagi, Kaga, Soryu and Hiryu, were 350km north-west of Darwin. At 9.55am the first wave of planes, consisting of 36 fighters, 71 dive-bombers and 81 high level bombers attacked Darwin killing at least 243 people.
Les Miller, resident of Pennant Hills, remembers flying into Darwin the following day in his Royal Australian Air Force de Havilland Dragon aircraft.
"All the airfield buildings were perforated either with bullets or shrapnel from exploding bombs," he said "Columns of thick black smoke were rising up from the harbour where 46 ships had suffered attack with 21 sunk or badly damaged. I was told 72 bombers had arrived over the town at 10.35am and dropped their munitions on the airfield and the township for over an hour. In the afternoon a second raid by 21 bombers increased the damage to the town."
In a subsequent raid, Les was strafed by a Japanese Zero. He and a mate leaped for their lives into a slit trench. Only afterwards did they realise that the truck parked next to them was full of explosives and ammunition.
During the next two years there were a further 64 air raids on northern Australia.
Wing Commander Archibald Tindal, the Area Armaments Officer, was strafed and killed as he operated a machine gun from a trench during the first raid. The RAAF have named the main Northern Territory Air Force Base in his honour.
Trevor Patrick is a local historian of the north-west of Sydney, Australia. His latest book, In Search of the Pennant Hills, recounts some of these stories (and others) in more detail.