Govetts Leap in the Blue Mountains (Picturesque Atlas of Australia 1888)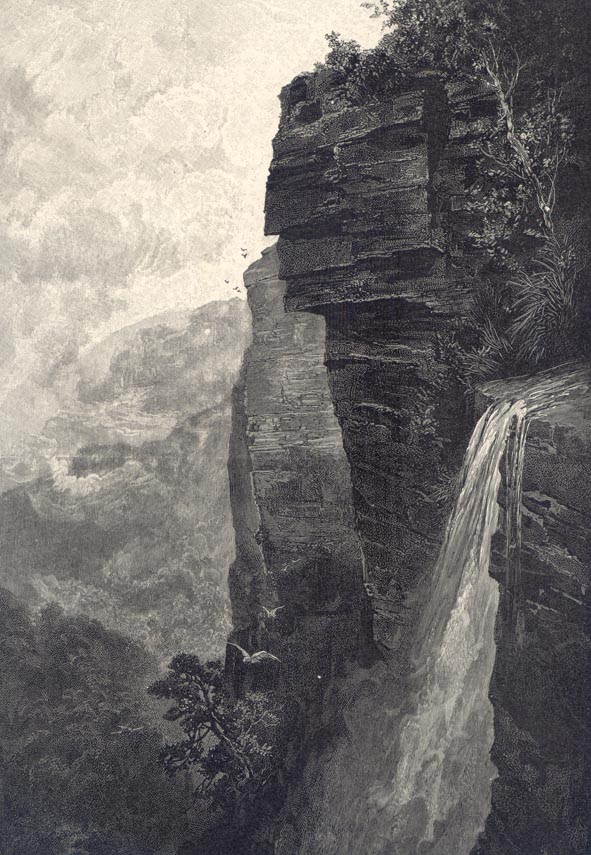 On 17th January 1836 Charles Darwin crossed the Nepean River on a 'ferry-boat' and ascended the road built by William Cox. A strenuous climb to an altitude of 3000 feet brought him to the Weatherboard Inn (Katoomba) by the middle of the day. Local inhabitants recommended he ride 1½ miles to look into the Jamieson Valley. He wrote a word description of the sheer sandstone cliffs and the waterfall that dropped 1500 feet onto the valley floor. Travelling further west he stopped at Blackheath for the night. A walk next morning of 3 miles brought him to Govett's Leap, named to honour surveyor William Govett. The word "leap" is an Old English expression of a small waterfall.
'We descended from the sandstone platform by the pass of Mount Victoria. To effect this pass, an enormous quantity of stone has been cut through. At Hassan's Walls, I left the high road, and made a short detour to a farm called Walerawang…..the usual number of assigned convict-servants here is about forty.'
Charles Darwin considered the convict policy and wrote –

'Converting vagabonds, most useless in one hemisphere, into active citizens of another, and thus give birth to a new and splendid country – a grand centre of civilization – it has succeeded to a degree perhaps unparalleled in history'.
Reference: The Voyage of the BEAGLE by Charles Darwin.
Trevor Patrick is a local historian of the north-west of Sydney, Australia. His latest book, In Search of the Pennant Hills, recounts some of these stories (and others) in more detail.