Hermitage Cottage in 2008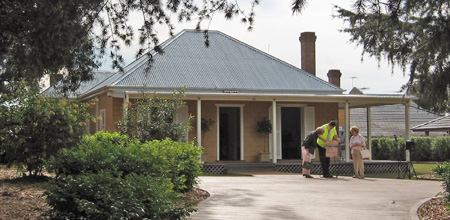 Governor King presented to Verincourt De Clambe a grant of land on the high point overlooking present day shopping centre and suburb of Castle Hill in 1801. At the time rumour had it that De Clambe planned to build a castle befitting his social status. He has been recorded as having various titles: Baron, Chevalier, Colonel or Lieutenant. It is noteworthy that De Clambe had received his selection on the best land and on the threshold of the 34,000 acre government common which stretched northwards to the Hawkesbury River. The reality of constructing a castle, when there were few resources, demanded that a simple timber slab hut was the only option.
The residence was named The Hermitage and has survived 200 years through the fortunate use of turpentine timber which is resistant to termites and which was cut on the estate. A secondary dwelling was built around the original which further protected this historic structure. It is considered by historians a possibility that The Hermitage is the oldest surviving slab building in Sydney. It is located at 340 Old Northern Road (Rogans Hill) occupied by Hills Family Funerals Limited.
Trevor Patrick is a local historian of the north-west of Sydney, Australia. His latest book, In Search of the Pennant Hills, recounts some of these stories (and others) in more detail.