The Benedictine sisters moved from Subiaco, Parramatta to their retreat in Franklin Road West Pennant Hills in 1957. The land development of the new suburb of Cherrybrook in the 1980s encroached on the tranquility of their property. In 1986, the Benedictine Nuns sold the 50 acre site to Trinity Development Company and moved to the south coast of New South Wales. Their religious order is a contemplative one which requires a more quiet and serene environment than what Cherrybrook now offers.
Benedictine Abbey from the air 1989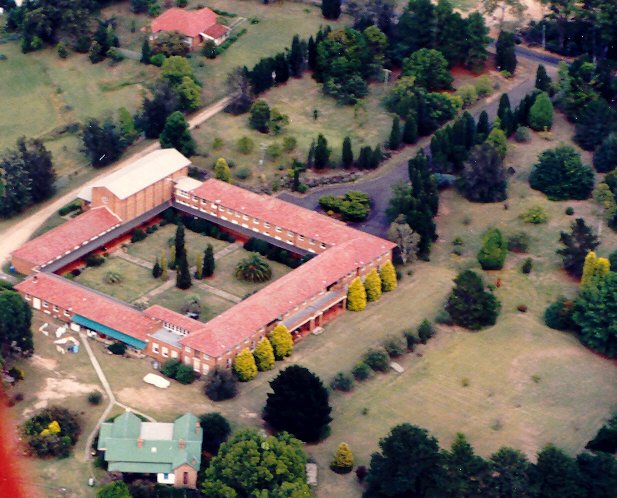 The Abbey was demolished within five hours on 31 May 1988. Associated thoroughfares built after the Abbey was demolished across the property have been named Benedictine, Trinity, Angel, Chapel, Monastery, Abbey, All Saints, Sanctuary, Priory, Angel, Paradise and The Grange and The Cloisters.
Paxton Close created in 1983 is also associated with the Benedictine Order. The Latin word Pax [meaning peace] was carved into the main wall of the chapel as a constant reminder of the rule of life dictated by Saint Benedict of Nursia (about the years 480-543). The Benedictine order helped to preserve the traditions of Christianity throughout the Middle Ages. The Benedictines are noted for their piety and encouragement of learning. During the Middle Ages they produced many of the books written before the invention of printing in Europe.
The Benedictine sisters were featured in November 2007 in an ABC television programme title The Abbey which gave an insight into the Order.
Trevor Patrick is a local historian of the north-west of Sydney, Australia. His latest book, In Search of the Pennant Hills, recounts some of these stories (and others) in more detail.