Hand stencils in red and white ochre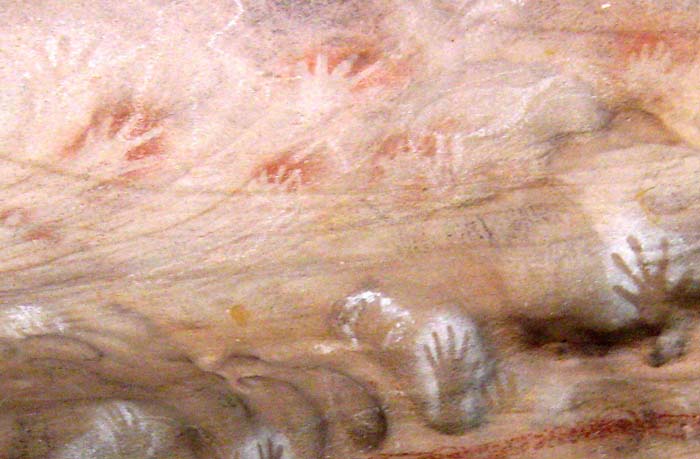 It is believed the Great North Road, built by convict labour from 1826 to 1836, followed the traditional paths of the aboriginal people. Evidence of the use of the paths may still be found through a number of sites adjacent to the modern-day road linking Sydney to the Hunter Valley. The vegetation gives some idea of the difficulty of living in the Hawkesbury sandstone region. The leaves of the banksias are thin and spiky; the fruits are small and low in nutrition. Birds seem to be best adapted with special beaks and tongues to gather nectar from the small flowers of the eucalyptus and grevilleas. We must admire the survival skills of the people who lived in this region. Areas of sandstone domes with overhanging ledges provided caves where beautiful art depicting Baiame [the Great One], animals and the human form especially hand stencils have been drawn in ancient times. These protected sites permit us to join with the original inhabitants in venerating our land and all its creatures. Viewing the art gives us the opportunity to link with the past.
Trevor Patrick is a local historian of the north-west of Sydney, Australia. His latest book, In Search of the Pennant Hills, recounts some of these stories (and others) in more detail.